Mold Design & Manufacture
Design, manufacture and maintenance of mold for plastic and rubber
In recent year, the environment surrounding the Japanese mold industry are changing drastically.We keep challenging by utilizing our original technique and skill based on the experience over 37 years and accepting and adapting changes.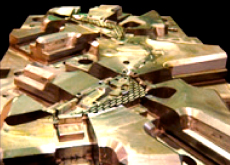 Product & Survive
1. Design and manufacture of plastic mold for injection
【For Automobile】
・Interior and exterior plastic products (injection molding products)
・Functional Parts etc.




It is possible to manufacture molds of 100t-2,000t.
We are good at making deep molds.
2. Mold for rubber molding
【For Automobile】
・Weather Strip Form Block Part
・Air Cleaner Hose etc.
3. Maintenance and repair of mold
| | |
| --- | --- |
| We are dedicated to quick and flexible maintenance and repair from customers' viewpoint. | |
Features
1. Making of molds with high reliability which matches customer needs
①Simple design
②Simple structure
③Good processing and finishing techniques




We produce good molds with strength and durability which are second to none with technical know-hows supported by the experience for over 37 years.
2. Maintenance which technical strength and mobility are utilized for
Strong maintenance support system by the original domestic & oversea network




We provide the back up system to be able to handle customer needs and requirements no matter various and hard they are by utilizing the original network.Fortunately, we are highly evaluated as the "strongest mold rescue" in the industry.